Beginner to Advanced
Grind Season Basketball Center is all about improving the skills and fundamentals of our players. The workout sessions focus on skill development through drills and games. Each session will consist of drills designed to improve shooting, ball handling, passing, defense and footwork, as well as confidence and understanding of the game. We offer group, one-on-one, private team training, camps and clinics for all ages and skill levels.
Beginner Basketball
Ages 7 to 12 | Boys and Girls
The first experience is critical to the desire to pursue and fall in love with the game! Our focus in this group training is to build basic individual and team skills that improve the physique and mental strength throughout their development on and off the court. More specifically, the fundamentals that will be exercised are dribbling, shooting, rebounding and passing. Our staff is well trained with this age group and exhibit patience, positive energy and genuine care.
Group Training
Consist of a total game tune-up focusing on ball handling, game moves, shooting, conditioning, footwork, and more. The group session atmosphere allows each player to develop and compete in a high level environment. A maximum of 12 players are allowed in each group session. Group training sessions are held weekdays & scheduled accordingly by age group.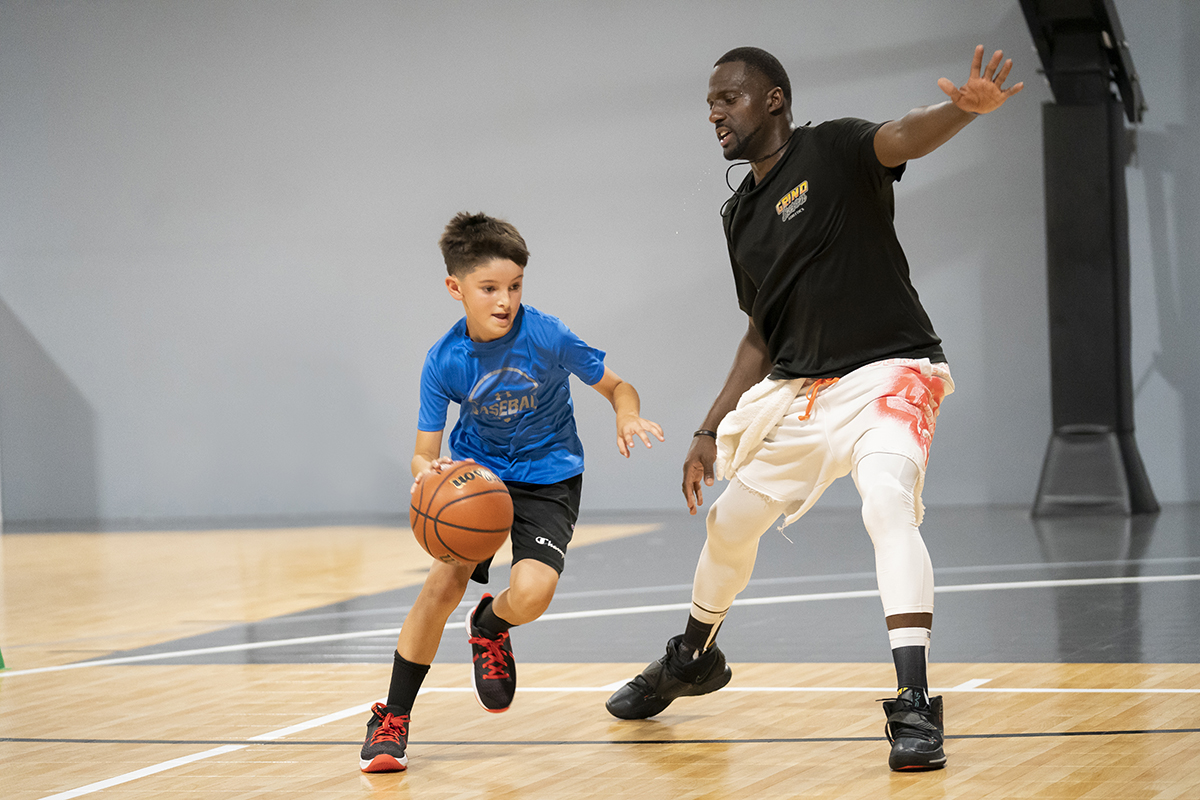 Private Training
Allows our coaches to direct all their attention towards breaking down the strengths and weaknesses of a player. Our trainers deliver an abundance of creative drills designed to improve a player's skill set. One-on-one sessions are a great way to ensure your workout is customized, efficient and effective. Private sessions can be scheduled any day of the week based off availability.
Private Team Training
Looking for a place to help your team gain the advantage over your opponents! Let us train your team! Our professional trainers can help enhance your basketball team with an intense player development workout. Whether aau, travel team, school team or rec league squad, we can put your team through our signature drills and stations consisting of ball-handling, shooting mechanics, defensive strategies, and all the core fundamentals. Our systemized practice workouts are the perfect addition to your program. Private Team Training is available daily by appointment. So Coaches & Program Directors reserve a Private Team Training session today!
Hoop Queens Basketball
Hoop Queens Basketball was created to empower and encourage girls to participate in organized basketball training. Due to the lack of all-girls basketball training it is hard for girls to find a program in which they can experience an atmosphere where they can improve their basketball skills amongst themselves.
We at Grind Season Basketball Center are here to combat that by providing female players who aspire to play at the next level a exclusive class that will give them the tools they need to succeed. We are dedicated to providing girls of all ages the opportunity to learn, excel and perfect their game of basketball. This group training class focuses on improving player's skills while emphasizing ball handling, offense, defense, shooting and game fundamentals. Hoop Queens Basketball sessions are held weekdays & scheduled accordingly by age group.
Little Grinder's Clinic
(weekly basketball skills training class for toddlers ages 3 to 6 years old)
Little Grinder's Clinic is a one of a kind basketball skills program designed for toddlers ages 3 – 6 years old. This class introduces children to beginner basketball fundamentals such as dribbling, passing, shooting & defense. We focus on confidence building, skill development, participation, teamwork, hand/eye coordination and most importantly FUN!
Our Little Grinders class is the perfect way for children to burn energy while learning the rules & fundamentals of basketball. We use a variety of fun games to develop balance, movement, and basketball skills as well as listening to instructions. All activities include appropriate movement options for children and parents. Our class is 45 minutes of structured lessons and the last 15 minutes is designated for games & skill competitions. Get your child a head start and sign up our Little Grinder's Clinic today!
Skill Clinics
Our Skill Clinics are great for any player looking to develop their game. We teach all the fundamentals needed to be the best player you can be. Each clinic focuses on a particular skill. Ball-handling, shooting, scoring moves, footwork, conditioning, defense & vertical leap are just a few examples of the type of Skill Clinics we provide. Players will be separated into small personalized groups to receive detailed information from our coaching staff. This allows players to get more attention and have the opportunity to ask questions & get the proper amount of reps. Our Skill Clinics are ran on weekends & are designed for all skill levels.
Shooting Machine Workout
Our shooting machine workouts help players to develop confidence in shooting the basketball. Each shooting session allows players the opportunity to get up a maximum amount of shots in little time. The Gun 8000 by Shoot-A-Way is the best basketball shooting machine to date for dramatically improving your ball players shot. This basketball shooting machine will act as an automatic rebounder, instantly rebounding a made or missed shot and giving a direct return pass for another shot. Shoot up to 1800 shots per hour. Adding a shooting session to the end of a one-on-one or group workout is a great way to close your session. Our Shooting Machine is available for rent 7 days a week upon request.
Vertimax Private Training
The Vertimax basketball training system and workout equipment improves vertical jump performance and first step quickness. If you want to improve your performance on the basketball court Vertimax is the best tools you can use to improve your vertical jump, your on court performance, your first step quickness, and more. Vertimax is trusted and relied on by leading NBA pro teams, collegiate teams, and high school and youth basketball players because VertiMax equipment works. Book your Vertimax private lessons today!
Grind Season Party Rental
Are you ready to have a non stop basketball birthday party? Let our experienced birthday party planners and activity staff help you create a once in a lifetime experience for your child! Enjoy our entire facility & basketball court while participating in competitions, skill challenges, relay races, basketball drills, a full court scrimmage game or any other fun activity that you can think of! Our party leaders set-up, clean-up and do everything in between. We are happy to incorporate into the set-up the theme accents that you would like to bring for your birthday party. The birthday boy/girl will receive their very own Grind Season Basketball Center T-Shirt & each party guest will receive one complimentary Group or Clinic class pass. Please note, we will provide tables & chairs for your group, but will not provide food, plates, drinks, cups or birthday cakes. You're welcome to bring these items on your own.
Have questions? Ready To Reserve? Call us at (209) 665-4298 or email [email protected]
Perks
All ages
Exclusive access for 2.5 hours
The Birthday Baller is gifted a GSBC T-shirt
45 min Grind time: coach-led drills, activities & games
Up to 15 ballers + the Birthday Baller
Capacity of 30 guests including ballers
Each baller will receive a free class pass
Includes: tables, chairs & music